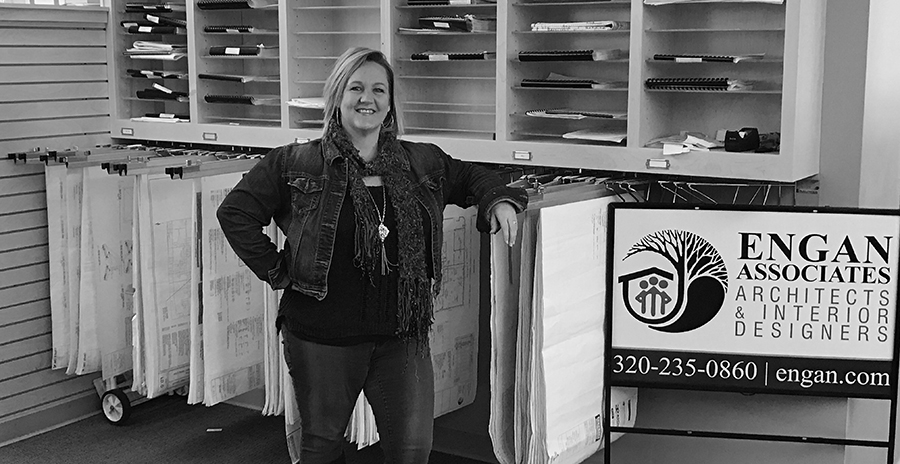 Tell us a little about you and your family:
My husband, Brian, and I live on the family farm just north of Olivia. We have two sons, Samuel and Maxwell, who are kind, active and intelligent teenagers at BOLD schools.
Where do you work and what is your role?
I am a Senior Designer and Project Manager at Engan Associates, an architecture firm in downtown Willmar. I love that my job is a combination of art and science.  It IS construction… but it is really about people and relationships.  The biggest compliment I've ever received from a client was when they affectionately referred to me as their "translator."
What inspired you to become involved with United Way?
I became involved in the Community Review Day as it was a simple, single day commitment.  I was inspired by what I was seeing and the democratic process of reviews.  It was good to see the important work happening all around us; not just the big showy adventures but the smaller scale, let's do what is right, right now, aspect to some of these agencies.  While the United Way board was serving the area that I live AND work in, I noticed that there no current board representation in the area in which I live.  My boys were getting older, a little more self-sufficient, so the time seemed right to commit.
What is the most rewarding thing(s) you have taken from this experience?
I find being able to help people help themselves is not only empowering for them, but me as well.
What is one word you would use to sum up United Way's work and why?
Empowering. United Way works to help others find lasting solutions to issues.
What impresses you most about the United Way of West Central Minnesota?
I am impressed with the spirit of trying to do what is right, balanced with budget and what is the biggest benefit for the common good.
What is one thing about United Way that you think people should know?
Nearly all the money raised in West Central Minnesota stays in West Central Minnesota.  99 cents from every dollar raised stays local!
What advice would you give to a potential donor who is considering investing in United Way?
When you give to United Way of West Central Minnesota, local people are actively reviewing organizations and their programs to evaluate the impact of the giving dollar.
How has being a board member for United Way affected your life?
I would like to think that I have an open mind with a broad perspective. Being on the board has allowed  me to have thoughtful debate with other caring individuals who have different goals and life experiences.  We can accept and embrace our difference and still work together to help others.