Litchfield Empower: Women United

LITCHFIELD AREA Empower: Women United
Litchfield Area EMPOWER: Women United was formed in February of 2001 with the United Way of West Central Minnesota.  Our plan is to help our community equip families and caregivers so all of the children in the Litchfield Area can be ready to learn and be successful upon entering our school systems. We know that if you reach children at an early age it pays off with higher graduations rates, lower teen pregnancy rates, and more success in school and life.
EMPOWER: Women United is EDUCATING women about our community's most pressing needs, ENGAGING women as philanthropic leaders and active community investors and EMPOWERING women to be a part of positive change in our community.
For more information on Empower contact Teresa teresa@liveunitedwcm.org or 320-235-1050
OUR GOALS & PRIORITIES
ACCESS TO EARLY LEARNING
Focus on high risk and working families
Create partnerships around mobility
Scholarships for Preschool and Early Learning Programs
Close the Gap between prepared and unprepared students
PARENT EDUCATION AND SUPPORT
Connect families to available resources
Community Born Learning Campaign
Health & Nutrition Information
Parent and Provider Outreach
OUR PROJECTS & ACCOMPLISHMENTS
Transportation Scholarships: Litchfield Area Empower partners with Meeker County Transit to provide round trip bus passes for children attending preschool in Litchfield.
iPads for Preschools. Apple iPads were gifted to 11 Litchfield Area Childcare Providers
Supported Hands of Friendship Quilt Guild – Tummy Time Quilts
Playground equipment for Litchfield Memorial Park – Dragon Wave Slide, Tot Monkey Bars and Bench
Pre-School Screen Backpacks for Litchfield preschoolers
Books – starter Libraries for Childcare providers and books handed out at Watercade Parade
Litchfield Area Empower Committee
Donna Anderson, Julie Athmann Dengerud, Rebecca Boll, Teresa Carlson, Terri Anderson, Jodi Eggert, Wendy Walz, Stacey Doering, Krystal Chapin, & Beckie Simenson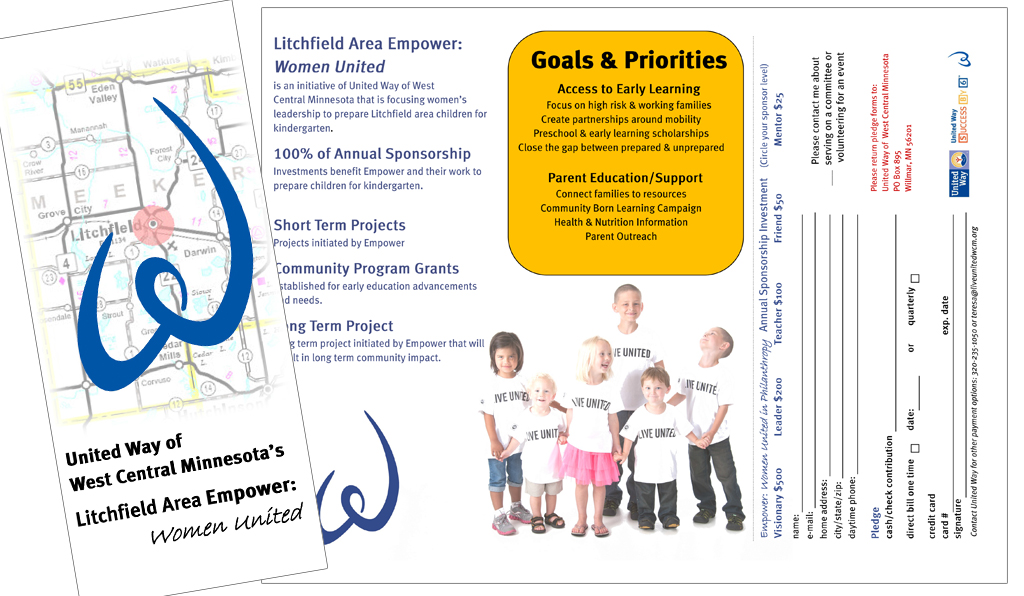 Download a copy of the Litchfield Area Empower Brochure here
Additional Resources: